Back to News
Make a Bigger Impact with Stock Gifts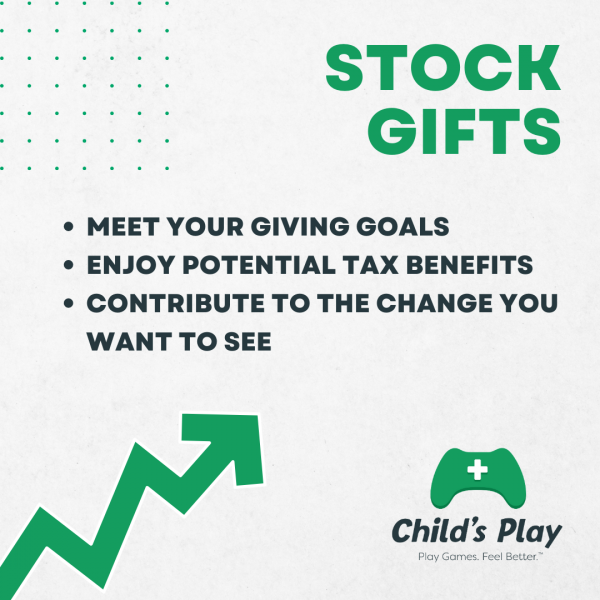 By now you have heard the news, Child's Play is celebrating 20 years. Many of you have supported Child's Play since its inception. From the first request to supply games and toys to hospitals to a multimillion-dollar-a-year charitable organization, you have been there through it all. You have watched as Child's Play has grown a network of over 190 hospitals, powered hundreds of thousands of hours of play, and watched Child's Play launch the Patient Gaming Technology Specialist (PGTS) program - all through your generosity. Even with remarkable growth, there are many unmet needs.

We are on a mission to diversify the ways you can give and help increase your options to fund the power of play. How are we doing that? You now have the option to make an impact by donating stock. Stock donations to charity provide advantages that make it a tax-smart way to give. If you donate stock that has appreciated for more than a year, your gift will be 20 percent more than if you sold the stock and then made the cash donation. Why? By donating stock, you avoid capital gains taxes.

Are you worried donating stock will be time-consuming or complicated? Don't be, Child's Play has got you covered. Click here to review 3 easy ways to give. You can make a gift of stock online now, make your gift over the phone, by mail, or allow your financial advisor to work on your behalf with FreeWill.