Get to know the Child's Play team.
Meet the Staff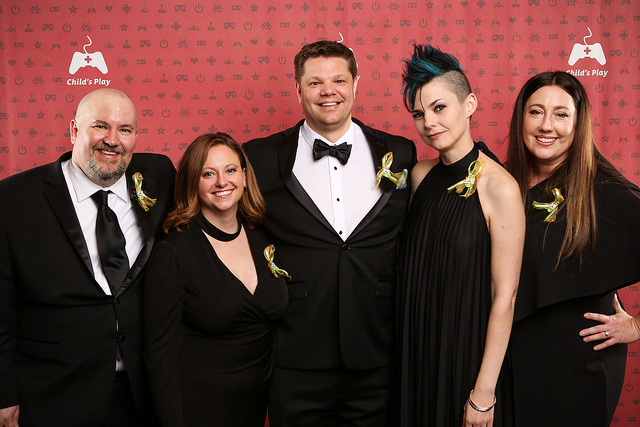 Left to Right: Erick Blandin, Kristy Monahan, Travis Eriksen, Tabby Sheehan, Kirsten Carlile
Erick Blandin: Program Director
Erick joined Child's Play in 2014 after working for UW Medicine for 10 years as an IT Analyst. This background gives him a good insight into the challenges hospitals have in adopting new technologies. Has attended over 30 PAXen as a fan, then Enforcer, staff, and now as Exhibitor. Plays games regularly including a regular Pathfinder game with a group he's been with for over 20 years. Started gaming in the early 80s with Intellivision and D&D and played Nintendo while a patient for a week at Seattle Children's in the 90s.
Kristy Monahan: Accounting Wizard
Kristy joined the Child's Play team in 2017, her love affair with games began in the '80s with the advent of "Old School" Nintendo and Mario Bros. When she's not crunching numbers, Kristy can be found carting her children to their various extracurricular activities, singing and playing guitar, or out in the woods camping.
Travis Eriksen: Executive Director
After 15 years of teaching middle school Math and STEM classes, Travis joined Child's Play in 2016. With a Master's Degree focused in Education from Oregon State University, he has used his experience in education and passion for helping kids to further the educational mission of Child's Play. Travis is also the ChiefOmegatech of PAX, running every Omegathon since the first PAX in 2004 (ok nearly every one, he had to miss the third PAX AUS and first PAX South because of teaching). In his free time, Travis listens to podcasts, lifts, and spending time with his wife Courtney and sons, Odin and Taran.
Tabby Sheehan: Community and Program Coordinator
Tabitha, a.k.a StabbyTabby joined the Child's Play team in 2017 after moving to the Seattle area from Las Vegas. Although new to the world of Penny Arcade and PAX, she has been an avid gamer for 35 years. While working for Nintendo for five years she learned valuable people skills that she now uses at the Child's Play booth. You can visit her at our booth at PAX and other conventions spreading the word about Child's Play.
Kirsten Carlile: Director of Philanthropy and Partner Experiences
Sharing a birthplace with the founders of Child's Play, Spokane native Kirsten is the newest member of our dynamic team. She is no stranger to philanthropy & development, Kirsten has spent the past 16 years wearing a variety of hats creatively championing the mission of Children's Miracle Network Hospitals and compassionately leading a Family Support Services team at Sacred Heart Children's Hospital, including Child Life. Kirsten's career passion centers around children and healthcare. Creative and outgoing, she knows firsthand the importance of the work we do and has already significantly contributed to our "on the front lines" support of Child Life. Outside the office, you can find Kirsten traveling to beautiful and remote locations fishing saltwater flats with her hubby and still hoping to hook the elusive triggerfish.