Thank you for all your support in 2018
We did not set out to have 2018 be a record-breaking year for Child's Play, in fact, if you had asked us at the beginning of the year we expected 2018 to be a year where we settled in from a wild 2017. We started off the year developing a plan to make our grant process more sustainable, both financially but also creating a schedule that our small team could manage with everything else we are doing on a daily basis. We worked with GAEMS and FullyLoaded to get phase two of the shelter program up and running, and put in place a plan to make sure we can sustain it for years to come without interruption. At the direction of our new board members, the biggest project we took on this year was finding a Development Director. It took the better part of the year but in November we found a candidate for the position and starting in 2019 Child's Play will officially have a staff of five people.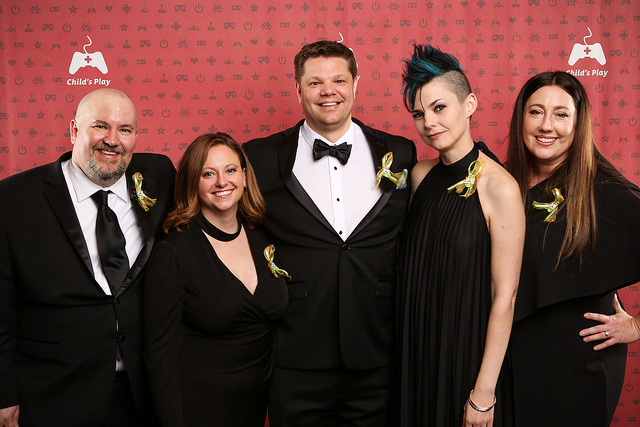 Erick Blandin: Program Director, Kristy Monahan: Accountant, Travis Eriksen: Executive Director, Tabby Sheehan: Community and Program Coordinator, Kirsten Carlile: Director of Philanthropy and Partner Experiences
While we worked quietly in the background to put all these new processes into place you, the community, continued to support Child's Play with growing passion, culminating the year with a record year for Desert Bus ($732,113.37) and the annual Child's Play Dinner Auction.
Desert Bus 2018 has completed its journey at $730,099.

We offer our sincere thanks to you: our wonderful viewers, donators, guests, crafters, volunteers, chat moderators, video strike team members, and everyone else involved.

We love you all. pic.twitter.com/rpDttEBvy6

— Desert Bus for Hope (@DesertBus) November 16, 2018


Onstage after the live auction, we celebrated a total that pushed the combined total from Desert Bus and the Auction over $1,000,000. The $267,887 we celebrated was an amazing amount and a hefty sum above what we raised at the dinner last year ($200,000 including auctions, tickets, eBay etc. . .), but it didn't end there. When we totaled everything up from this year's auction we crossed the $400,000 mark.
We cannot say it enough, thank you for your support. You have made the last 15 years possible, you have impacted the lives of millions of children, you have helped us change the world.


Play Games, Feel Better